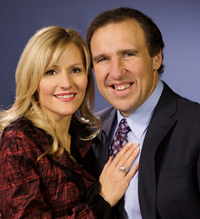 Drs. Rodney and Adonica Howard-Browne are the founders of Revival Ministries International, The River at Tampa Bay Church, River Bible Institute, River School of Worship, and River School of Government in Tampa, Florida.
In December of 1987, Rodney, along with his wife, Adonica, and their three children, Kirsten, Kelly and Kenneth, moved from their native land, South Africa, to the United States – called by God as missionaries from Africa to America. The Lord had spoken through Rodney in a word of prophecy and declared: "As America has sown missionaries over the last 200 years, I am going to raise up people from other nations to come to the United States of America. I am sending a mighty revival to America."
In April of 1989, the Lord sent a revival of signs and wonders and miracles that began in a church in Clifton Park, New York, that has continued until today, resulting in thousands of people being touched and changed as they encounter the presence of the living God! God is still moving today – saving, healing, delivering, restoring, and setting free!
Rodney and Adonica have been called by God to reach out to the nations – whilst keeping America as their primary mission field. Their heart is to see the Church – the Body of Christ – revived, and the lost won to Christ. They have conducted a number of mass crusades and many outreaches, but their heart is also to train and equip others to bring in the harvest – from one-on-one evangelism to outreaches that reach tens, hundreds, thousands and even tens of thousands. Every soul matters and every salvation is a victory for the kingdom of God!
Drs. Rodney and Adonica's second daughter, Kelly, was born with an incurable lung disease called Cystic Fibrosis. This demonic disease slowly destroyed her lungs. Early on Christmas morning 2002, at the age of eighteen, she ran out of lung capacity and breathed out her last breath. They placed her into the arms of her Lord and Savior and then vowed a vow. First, they vowed that the devil would pay for what he had done to their family. Secondly, they vowed to do everything in their power, with the help of the Lord, to win 100 million souls to Jesus and to put $1 billion into world missions and the harvest of souls.
With a passion for souls and a passion to revive and mobilize the body of Christ, Drs. Rodney and Adonica have conducted soul-winning efforts throughout America and other countries with "Good News" campaigns, R.M.I. Revivals, and the Great Awakening Tours (G.A.T.). As a result, millions have come to Christ and tens of thousands of believers have been revived and mobilized to preach the Gospel of Jesus Christ. So far, around the world, over 12,054,000 people have made decisions for Jesus Christ through this ministry.