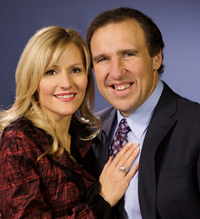 PASTORS RODNEY & ADONICA HOWARD-BROWNE | SENIOR PASTORS
Rodney Howard-Browne was born in Port Elizabeth, South Africa, and grew up in the Eastern Cape and Transkei. His wife, Adonica, was born in Bulawayo, Zimbabwe, and raised in Johannesburg. Rodney gave his heart to the Lord at the age of five and Adonica gave her heart to the Lord at the age of seventeen. They met and married in 1981 and immediately went full-time together into the traveling ministry. Over the next six years they traveled across Southern Africa, including Zimbabwe and Namibia, preaching the Gospel of the Lord Jesus Christ. In 1983, they pioneered a church in the Northeastern Cape and pastored there for two years. After that, Rodney taught classes in a leading Bible School for another two years.
During this time, they had three children: Kirsten, born in 1982, Kelly May, born in 1984, and Kenneth, born in 1987. Rodney and Adonica knew, even before they married, that they were both called to travel around the world to preach the gospel and they had a particularly strong calling toward the United States of America. In 1987 the door opened for them to go to America. Rodney visited America twice that year, preaching in several churches, and in December 1987 the whole family traveled to America to fulfill the call and plan and purpose of God and to move into the new phase of ministry that God had called them into. The Lord supernaturally provided for their air tickets and they came to America with only $300, four suitcases, and their three children, then aged five, three and seven months.
PASTORS ERIC & JENNIFER GONYON | ASSOCIATE PASTORS
Pastors Eric and Jennifer Gonyon love the Lord with all their hearts and are so thankful for God's supernatural intervention, grace, and mercy that He clearly extended in and throughout their lives. If it were not for God's hand working on their behalf, they realize that they would not be here today for they were not saved until their mid-twenties. In 1991, after being filled with the Holy Ghost, an unquenchable desire and fire entered their hearts to passionately pursue God, the things of Heaven, and to win the lost at any cost. In 1996, Eric and Jennifer attended Pastor Rodney Howard-Browne's meetings in Lake Charles, Louisiana and the Gonyons were never the same again and became partners with the ministry.
When Pastor Rodney announced the River Bible Institute, the Gonyons joined and then graduated as Charter Graduates in 1998. It was also in 1998 when Pastor Rodney hired the two of them. Eric and Jennifer have the privilege of traveling with Pastors Rodney and Adonica and, as a result, they have travelled to over twenty-five different countries. The Gonyons have assisted in organizing many of the soul-winning ventures, such as: Good News New York, Good News Shreveport-Bossier, Good News Tampa, Good News Soweto, Good News Umlazi, Good News Mamelodi, Good News Mdantsane and the Great Awakening Tours. Eric and Jennifer are eternally grateful and thankful for both Pastors Rodney and Adonica and truly count it a privilege to help cast the Gospel net around the world to win the lost at any cost.
PASTOR DAWN SCHEGAR | ASSOCIATE PASTOR
Pastor Dawn Schegar was saved 1979 in South Africa. She had her own school and immediately began ministering to the children and the parents. Many were touched by the Lord and some are even in the ministry today! Dawn saw Pastor Rodney Howard-Browne in a Youth Meeting and the Holy Spirit spoke to her and said, "Mark that young man." She knew there was something special about him. God had marked him. A few months later, he married Dawn's daughter, Pastor Adonica Howard-Browne.
Right about that time, Dawn started a Mission School, which she had for ten years. She then came under Pastors Rodney and Adonica's ministry and was ordained by them. God then opened the door for Dawn to come to America and she knew this was where He wanted her to be. She is now the Children's Pastor at The River at Tampa Bay. She oversees staff and volunteers who assist her in teaching and ministering to the children. Also, she teaches and ministers to the children herself. She counsels and ministers to the parents, and she is responsible for the acquisition and maintenance of the equipment and the curriculum. Dawn has five children, Adonica and Colleen, who were saved at the same time as she was, and Bruce, David, and Earl, who got saved within the same week; they all love the Lord.

PASTORS ALLEN AND KRISTIN HAWES | YOUTH PASTORS
Pastors Allen and Kristin came to the River at Tampa Bay starting in 2003. Allen came to be a student at the River Bible Institute in 2003 and Kristin followed in 2004. Both Kristin and Allen were given the opportunity to serve in several different areas of the ministry. In 2005, Kristin was hired on staff to take over the Hospitality department.

During his time in RBI, Allen had the opportunity to serve Pastors Rodney and Adonica as well as serve under two youth pastors as a youth leader. Then in August of 2006, after Allen graduated from RBI, he was hired by Pastors Rodney and Adonica as an associate pastor at The River and then together they took over the youth department as the Youth Pastors in February of 2007.

Both Allen and Kristin came to The River with experience in the ministry. They had each served for a minimum of 3 years in the Central Florida Masters Commission, both as students and eventually as intern directors over the students of Masters Commission. In 1998, Allen traveled with Eastman Curtis Ministries doing youth crusades around the U.S. They have traveled together with these ministries to different countries around the world from Romania to Bulgaria, Nicaragua to the Philippines, Paris to the U.S and British Virgin Islands and the Bahamas as well as many cities and states across the United States. God has birthed a desire and a call to see an entire generation of young people touched and changed by the Fire of God, and to raise them up to fulfill the great commission. Allen and Kristin were married in June of 2005.
PASTOR JORDAN HICE | CHILDREN'S PASTOR
Pastor Jordan Hice was born and raised in South Florida. His life was radically changed at the age of 20 when he got saved and touched by the Lord. In 2009 he went to Tampa, Florida to attend RBI (River Bible Institute) because of the calling on his life to go into full time ministry. After finishing three years of Bible College there, he started teaching in the children's ministry at "The River" Church. After being a part of River Kids and Children's Ministry he pursued the call of God as a Youth pastor in Palm Coast, Florida. Along with filling the Youth pastor position, Pastor Jordan had a heart for the lost and became the Outreach pastor for the same church. Pastor Jordan has always been faithful to the call of God and was determined to follow Christ. Currently, he is back in Tampa, Florida as the Kid's Club pastor at The River of Tampa Bay Church. He has a passion to see young people saved, baptized in the Holy Ghost and walking in the full potential that God has for them. He wants to teach them that God wants to use them now as a leader in their schools, their homes and in every aspect of their life! His heart is to see a generation awaken!

PASTOR EVELYN CHAPARRO | SPANISH PASTOR
Noah Chaparro was born and raised in Aguada, Puerto Rico. Born-again at the age of 16 in Long Island, New York, he immediately felt the calling to the ministry. After graduating from Mizpa Bible College in San Juan, Puerto Rico, he was actively involved in a musical evangelistic ministry and later became an assistant Pastor in a Pentecostal Church in San Juan. His beautiful wife Evelyn also graduated from Mizpa Bible College a year after Noah.

In May 15, 1976 they got married and soon after starting Pastoring Calvary Pentecostal Temple Assembly of God in Staten Island, New York. Noah always had a heart for mass media outreach. In 1976 he and his wife founded the first Spanish radio program in Long Island, New York. Then, in 1980 the Lord opened a door to operate and manage a radio station in his home town in Puerto Rico. Today this is one of the top Spanish Christian radio stations in the country of Puerto Rico. They also founded Christian radio station WAYL FM and worked as Assistant Pastors of Trinity Chapel Ministries now known as Destiny International in St. Augustine, Florida. Noah has worked with other churches and ministries as a radio consultant, management and has built other radio stations in Miami, Orlando, and now in Tampa with Genesis 680 AM. The Lord blessed them with two children, Evie Adina and Noah Abdias, and two grand daughters, Kiara and Adelyn. Since they moved to Tampa, the ministry of Drs. Rodney and Adonica Howard-Browne has touched their lives in a special way. They both have a passion for revival and the fire of God and live with the expectation to see a great awakening among the Hispanic people.

PASTORS MARK & MARTHA CABRERA | SPANISH PASTORS
Both Pastors Mark and Martha were born and raised in Christian homes, accepted Jesus as their Lord and Savior at young ages, and have been actively involved in church all their lives. Pastor Mark was born in Chicago, IL and was raised in Florida while, Pastor Martha was born and raised in Miami, FL. In July of 1999, Pastors Mark and Martha married and later moved to Tampa, FL in 2004 following the lead of the Holy Spirit for more of Him. In that search they visited The River Church of Tampa Bay in 2007 and became members that very same year after the power of God completely overwhelmed them. In 2012 the Lord confirmed the calling they knew was over their lives to be in full-time ministry and accepted scholarships given to them by Drs. Rodney and Adonica Howard-Browne to the River Bible Institute. In 2015 Ps. Martha came on staff as Administrator of the River Institutes and in 2016 Ps. Mark came on staff as Admissions Director. Later that same year they were named associate pastors. In addition to their leadership roles in the River Institutes, Pastors Mark and Martha Cabrera advance the Gospel in the Hispanic community through the Spanish service at The River Church named, La Iglesia El Rio. Both are instructors for the Instituto Bíblico River (River Bible Institute in Español) where they are running with the vision of Drs. Rodney and Adonica Howard-Browne of teaching others to reach and shake the Spanish communities with the Fire of God through community outreaches, soul winning, weekly Spanish radio program named "El Gran Despertar" (The Great Awakening) and training Spanish churches on how to reach and impact their community. It is with great respect and honor that they serve this ministry.

PASTORS SHANNON & DEANNA GILBERT | ASSOCIATE PASTORS
Shannon was born on the Caribbean island of Commonwealth of Dominica and relocated to the U.S as a pre-teen; Deanna was born and raised in the state of South Carolina. Shannon having first attended The River at Tampa Bay in 2007 made a vow to the Lord in 2010 following a traumatic event, changing not only the direction of his life but Deanna's as well. Shannon and Deanna came jointly to the River at Tampa Bay Church in 2010 following Shannon's encounter with God. Following this encounter in 2010, they were married and became active members of the River at Tampa Bay. The Lord radically transformed their lives through the teachings of Drs. Rodney and Adonica Howard-Browne; not only through the preaching of the Word of God, but also the active demonstration of the Word of God. As members they actively served in the ministry of helps, plugged in with the outreach ministry, and embraced Drs. Rodney and Adonica Howard-Browne's vision. In 2012 they responded to the call of God on their lives, and enrolled at the River Bible Institute; and graduated in 2015. While attending RBI, in 2013 Shannon and Deanna were hired on staff as the Directors of the Ministry of Helps. As Directors of the Ministry of Helps they continued to serve faithfully, counting it as an honor and a privilege not only to oversee it but to be a part of it. During their internship at the River Bible Institute they were presented with the opportunity to lead S1ngular Fellowship; which grants them the opportunity to minister to the single members and visitors of the River Church. With a heart for souls and serving, Shannon and Deanna count it a privilege to be a part of a ministry which is focused on winning the lost and meeting the needs of the people as we contend for another Great Spiritual Awakening.
BIOS COMING SOON....
PASTORS DEREK & CHERYL GOLDING | ASSOCIATE PASTORS
PASTORS KENNETH & JESSICA HOWARD-BROWNE | ASSOCIATE PASTORS
PASTORS JAYSON & DANIELLE WILLIAMS | ASSOCIATE PASTORS
PASTORS CHRIS & LOIS WILLIAMS | ASSOCIATE PASTORS
PASTORS RAYMOND & CHARNE CILLIERS | ASSOCIATE PASTORS
PASTORS RYAN & CHRISTA JOOSTE | HEALING SCHOOL PASTORS