Publish date: 03/09/2006
Dear Drs. Rodney and Adonica Howard-Browne,
My name is Sarah E and I am 13 years old. When I was 6 my mother became abusive after drinking alcohol. I was with my older brother Jason when she got drunk. She beat us. This went on for approximately 6 months. When someone found out this was happening, they took me and all my brothers and sisters away. I went to the hospital. I had over a hundred bruises on my body. And I had been raped by my mom's boyfriend. They put me in an orphanage; it was like heaven on earth. I was taken out of the orphanage on my 8th birthday. I was adopted by my aunt and uncle, Thomas and Rita. Two months after they adopted me I accepted Jesus has my Lord and Savior. The day I got saved the Lord completely delivered me from the past. I have forgiven my mom for all that happened to me. Jesus has truly set me free.
I told myself, that I was going to make sure every hurting child got lots of love. My dream started to slip away. It was a big dream for a little kid until the 8th of this month; I was at a craft fair selling chocolate. I brought a basket full of homemade chocolate lollipops that I made. And a tray of samples for people to try. People gathered around me to take a free sample. In the few seconds that people were there, I told them that the money from the lollipops was going to help the kids around the world. I told them I wanted to raise one billion dollars. Some people just looked at me like I was crazy and others bought a lollipop and gave a small donation.
My family and I listen to you over the Internet and on the 9th you shared about your daughter Kelly's dream to raise a billion dollars, for orphanages around the world. I knew she had died but I never knew she had the same dream I did. I cried for hours, asking God if he really wanted me to be the one to help Kelly's dream come true. I've never seen any of the places that Kelly has, but I want the dream that Kelly and I share to come true. Please send me information on how I can send money to Kelly's fund. Thank you!
Sincerely,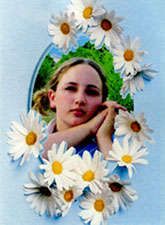 Sarah E.
Derry, NH
Click Here to go to the Kelly May Howard-Browne web Page