Tim Hall at The River
The River Church
Publish date: 06/14/2009
Evangelist Tim Hall will be ministering at The River Church, Sunday the 14th at 9:30 AM and 6 PM. Also, there will be special meetings held Tuesday through Friday at 7 PM. Come expecting to recieve from the Lord during a powerful week of meetings. Tim will also be with us again on Father's Day, the 21st at 9:30 AM and 6 PM. You will not want to miss this opportunity to hear from a great man of God!

Below is a short biography about Evangelist Tim & Jacque Hall and their ministry. If you would like to view more information, please visit www.timhallusa.com.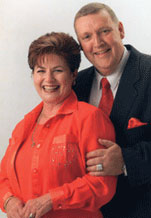 Saved in 1974 at the age of 26, an alcoholic high school teacher and bohemian artist had his life turned upside down by Jesus Christ. Tim Hall was born again and filled with the Holy Ghost at the Klemzig Assembly of God church under the ministry of Pastor Andrew Evans and that day he was called to the ministry. He planted a church in 1975 and went on to take various pastoral roles and ended up as youth pastor at Klemzig Assembly of God (now Paradise Community Church) seeing the youth ministry explode and become the largest group in Australia, and it remains so today. He went on to pioneer a church in Bendigo, which has grown to be one of the largest churches in the state of Victoria. He then moved to Dandenong, Victoria and saw remarkable success as the church grew to become one of the largest and most influential churches in Australia. From there he pastored various other churches in Victoria, Western Australia and South Australia seeing many saved and grounded in strong local churches.


In 1980 Tim began ministering extensively throughout the South Pacific holding miracle crusades. Doors opened across Australia for him to hold crusades leading him to form, in 1985, Tim Hall International Ministries Inc. based in Perth, Western Australia where he relocated his office and family to Adelaide, South Australia where he is today.

Since then he has travelled the globe holding revival meetings in Stadiums, Tents, Churches, Conference Halls and Civic Centers.

Tim's focus on the miraculous with signs and wonders has had a dramatic impact on the body of Christ in Australia and internationally. His forthright and anointed preaching coupled with a great manifestation of power has seen many saved, healed, drastically changed, baptized in the Holy Spirit and filled with a fresh touch of revival power.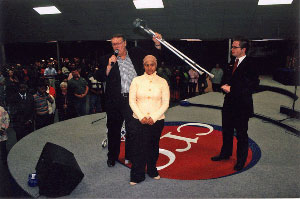 In recent years Tim and Jacque Hall also an anointed preacher have been flowing in revival, seeing a greater increase of joy, blessing, healing, salvation and Holy Ghost power.

Tim is ordained with the Australian Assemblies of God and ministers often in Word of Faith circles, and has obtained an honorary doctorate degree from the School of Bible Theology in San Jacinto, California.
COPYRIGHT © 2009 • TIM HALL INTERNATIONAL MINISTRIES • www.timhallusa.com