COMPELLING UPDATE – Washington D.C. – We need your prayers!
Great Awakening Tour
Publish date: 08/28/2009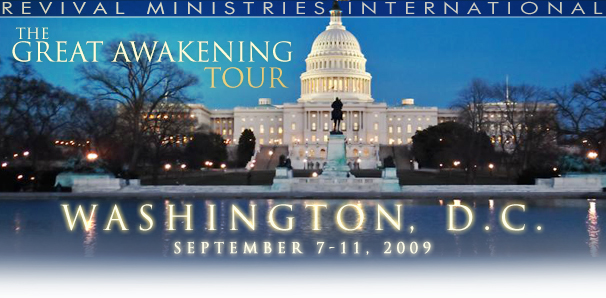 The Great Awakening Tour with Drs. Rodney and Adonica Howard-Browne is coming to Washington, D.C.

Join Dr. Rodney Howard-Browne and Music Dove Award Winners, the Cruses, on September 7 – 11, Monday – Friday, at 7PM nightly. The Power Evangelism dates are September 5 - 12, Saturday – Saturday, at 9AM daily.

As you know, this event is not just another Christian Conference. With the Great Awakening Tour in America, within the last 30 months, we have impacted THOUSANDS OF CHURCHES, trained over 30,000 believers to reach the lost with the Gospel of Jesus Christ, and have seen over 1 MILLION DECISIONS FOR JESUS CHRIST.

The Great Awakening Tour is giving believers an opportunity to be a part of our Nation's Capital being shaken with the Gospel of Jesus Christ: five nights of Holy Ghost & Fire Meetings and eight days of Power Evangelism.
• WANT MORE OF THE FIRE OF GOD?
• WONDERING WHAT GOD'S SPECIAL PLAN IS FOR YOUR LIFE?
• THINKING THAT THERE MUST BE MORE TO LIVING THE CHRISTIAN LIFE?

You don't want to miss this FREE event.
1) EXTREMELY URGENT MATTER! PLEASE, ADD THIS CAMPAIGN TO YOUR PRAYER LIST and to YOUR CHURCH'S PRAYER LIST TODAY! Begin praying for this Great Awakening Tour. Please, watch the COMPELLING video clip at www.greatawakening.com We are talking about reaching OUR NATION'S CAPITAL TOGETHER. This SUNDAY, please, have your entire church PRAY for this event. Each BIBLE study or church gathering, please, announce it and pray for it. EMAIL ALL OF YOUR CHRISTIAN FRIENDS TO PRAY AND TO DO WHAT THEY CAN TO HELP. (Please, see the *Special Offer posted below).
2) Bring your friends and family. Are your friends and family SAVED? Who in your life do you know that needs a healing in their body or could use a FRESH TOUCH FROM HEAVEN? This is a perfect opportunity for them to hear the LIFE-CHANGING message of Jesus Christ! Make plans to join us now.
3) There are many ways that you can be involved. If you would like to help at the crusade and / or be on the Power Evangelism team, please, let us know by clicking on the pre-register button below. Please, send a group; we need Harvesters / Soul Winners. Please send teams to help. If you can, organize a bus load from your church. We will train them how to populate Heaven and plunder hell. When they return to to your church after this event, they will be a GREAT BLESSING and help lead evangelism in your city/town/village.

4) VERY IMPORTANT: We are trusting the Lord to book 400 rooms at the Marriott to receive a discount on the Ballroom at the Marriott. If you are able to, please, stay at the Marriott (the location of this event) and / or organize a team to stay there; that would be a blessing and help us tremendously with the expenditures. To receive a discounted rate, please click here:


MAKE RESERVATIONS ONLINE
Also, here is the link to our radio commercial. Please, email it to your friends and family to get the word out. If you have connections for free advertisement, please, forward it to those contacts to air.


RADIO COMMERCIAL - Click to Listen - Right Click to Download

Thank you again for your faithful prayers and support.

For the harvest,
The Great Awakening Tour Team




GREAT AWAKENING TOUR CITY #55 WASHINGTON, D.C.
September 7, 2009 - September 11, 2009

HOLY GHOST & FIRE MEETINGS MONDAY-FRIDAY @ 7 PM!

Location:
Marriott Washington Wardman Park Hotel
2660 Woodley Road
Washington, D.C. 20008

Dates & Times:
Holy Ghost & Fire Meetings: Sept. 7 - 11 (Mon - Fri) @ 7PM nightly
Power Evangelism: Sept. 5 - 12 (Sat - Sat) @ 9AM daily

For extraordinary pictures documenting these events, Click here.




*SPECIAL OFFER---to be a blessing to you and to help us shake
WASHINGTON, D.C.

When you give a love gift of $50 or more online today, we will send you A VERY SPECIAL PACKAGE (a value of $75). Some of these materials have never been offered before: THREE DVDs, a CD, plus the NEWLY RELEASED Power Evangelism Soul-Winning Manual.
CLICK HERE FOR SPECIAL OFFER AND/OR TO GIVE ONLINE
SPECIAL OFFER DETAILS:
DVD entitled

Jesus, Friend of Sinners, Friend of Mine

by Dr. Rodney Howard-Browne. This very powerful message was recorded live from Madison Square Garden.
DVD entitled

Winning The Lost At Any Cost

by Eric & Jennifer Gonyon; this was recorded live at The River at Tampa Bay Church. We had various denominations of Pastors and Leaders represented: Baptist, Methodist, Word of Faith, Church of God in Christ, etc. We trained them how to win their city for Jesus and took them all soul-winning. It was an extremely FRUITFUL day in the LORD; get ready to get INSPIRED & ON FIRE to win your city.
DVD entitled

The Love of God

by Dr. Rodney Howard-Browne. This compelling message was recorded live from Madison Square Garden.
CD entitled

5 Things You Can Do Now To Generate Immediate Cash Flow

by Eric Gonyon. Testimonies have come in from many who have saved tens of thousands of dollars by applying the teaching that is shared on this CD. If you could use EXTRA CASH NOW, this CD is for YOU.
NEW Power Evangelism Soul-Winning Packet: The Lord put it on Pastor Rodney's heart to come up with a soul-winning packet. This training manual is by no means an end; it is, however, a beginning, a basic guideline, the tools that will help every believer win souls. This will prove to be a USEFUL TOOL to you and to your church.

We trust that these materials will be a great blessing to you. Please, be sure to use the custom link provided below to participate in this special love gift offer today.

CLICK HERE TO GIVE ONLINE
TO WATCH A COMPELLING VIDEO CLIP AND TO PRE-REGISTER FOR FREE, VISIT WWW.GREATAWAKENING.COM
FOR MORE INFO, VISIT WWW.REVIVAL.COM