History of Campmeetings
Journal
Publish date: 12/18/2015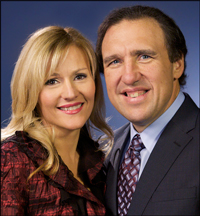 Through the summer of 1991, we held revival meetings in Louisville, Kentucky, and all over the surrounding area. Near the end of the summer, we decided to rent a facility and hold a "Campmeeting" to bring together the people from the churches in which we had ministered and anyone else who desired to come. This first Campmeeting was held in Jeffersonville, Indiana, just across the Ohio River from Louisville. We had a wonderful four days, registering about 500people. We decided to make this an annual event.
The next year, we moved into the Louisville Convention Center, in a room upstairs that could hold about 1,200 people, registering approximately 800-1,000 people. In 1993, we used the same room, but could not fit the people in and had to use an overflow room. About 3,000 people registered. The following year, we moved downstairs into the Convention Center's largest room, which could hold 7,500 to 10,000 people. That year, we had about 7,500 register. In 1995, we moved Campmeeting to St. Louis, Missouri, at the Kiel Center and registered 13,000 people. In that year, we moved our offices from Louisville, Kentucky to Tampa, Florida, and decided to move our Campmeeting to Tampa, as well. In 1996, we registered about 10,000.
Hebrews 10:24-25 reads, "And let us consider one another to provoke unto love and to good works: Not forsaking the assembling of ourselves together, as the manner of some is; but exhorting one another: and so much the more, as ye see the day approaching."
We believe an event like Campmeeting is important because it is a time that we set aside as a church to get totally saturated in revival and filled with the Holy Ghost. Some of us were touched by revival, but have cooled off – maybe without even realizing it. Some of us don't feel cooled off, but we need more. We need God to do a deeper work in our lives, to keep building on the foundation that has been laid. You may feel that you are in revival now, but it you do not stay in Holy Ghost revival meetings, you will not even know if you are on fire or just lukewarm!
When an automobile drives on uneven pavement, its wheels get out of alignment and need to be adjusted. So it is with the human heart – our spirit man. When you have been subjected to the potholes of life, you will need to come into alignment with the Word of God and receive a tune-up in the Spirit. Campmeeting has always been a time of refreshing, allowing God to take us to another level in Him.