Great Awakening Campaign in Cincinnati
Great Awakening Tour
Publish date: 04/01/2011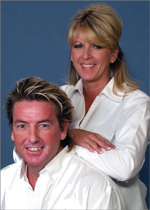 Great Awakening Campaign in Cincinnati
April 9th-23rd at 7 PM

Speakers:
Scott & Gayle Willis, Evangelist
Revival Ministries International

Growing up in the church Scott's dream was to be a successful businessman. A production homebuilder and developer Scott experienced the power of CHANGE in the spring of 95' in an encounter with the Holy Spirit that has altered the course of his life.
An unquenchable passion for Jesus and a return to first love has developed into a ministry of stirring hunger in God's people and seeing the presence and power of the Holy Spirit restored in the church.

Scott has traveled throughout Africa, Europe, Central & North America, preaching the power of CHANGE through the Gospel of Jesus Christ with some of the most powerful men of God on the earth.

Scott & Gayle are associate evangelists of Revival Ministries International.
Location:
"The Chapel" at Cincinnati Christian School
7474 Morris Rd
Hamilton, Ohio 45011
Mapquest Directions
Contact Information:
Scott Willis
Email: kscottwillis.rmi@gmail.com
Phone: 513.675.6408