On our way to Faroe Islands
Journal
Publish date: 03/01/2006
Dear Friends and Partners
Greeting from the crusade team in the Copenhagen airport en route to Faroe Islands. This island is located in the North Sea between Denmark and Iceland, north of Scotland. It is considered to be a part of Denmark - the same as Hawaii is to the USA. The island has a population of 65 000. We have rented the largest venue on the islands. A television network from Norway will broadcast us live across 35 countries of Europe. We believe that this will greatly impact the nation.
Please be in prayer with us as we believe for all the finances for these crusades. We have major expenses in the next 3 months with Scandanavia and New Zealand, Australia, and Mdantsane, South Africa.
We will be giving away 5 houses in Mdantsane - they will cost $25 000 each.

We love you - keep watching for updates during the week
From Drs. Rodney & Adonica Howard-Browne and international crusade director, Eric Gonyon.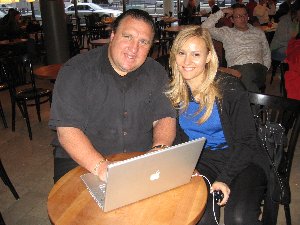 PASTORS RODNEY AND ADONICA UPDATING THE PARTNERS FROM THE COPENHAGEN AIRPORT