Africa Tour 24/7 Prayer Chain
Publish date: 09/03/2023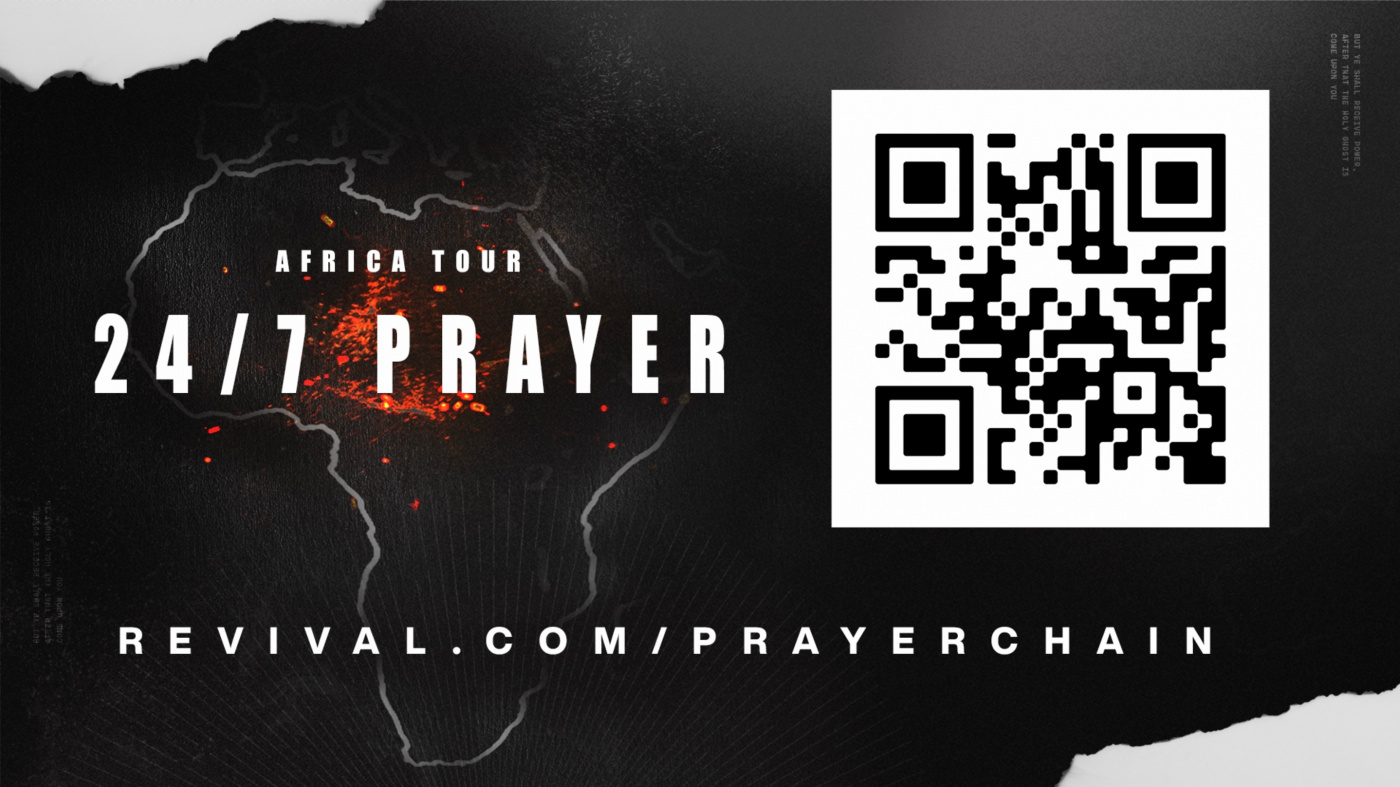 Today, we embark on a 6-week gospel crusade across Africa! We would like to ask you to pray together with us as we launch a 24-hour prayer chain for the Africa Tour until we return.
These are the dates and locations:
Ekiti, Nigeria: Sept. 4 - Sept. 7
Addis Ababa, Ethiopia: Sept. 8 - Sept. 10
Eldoret, Kenya: Sept. 11
Nairobi, Kenya: Sept. 12 - Sept. 13
Lilongwe, Malawi: Sept. 15 - Sept. 16
Johannesburg, South Africa: Sept. 17
Cape Town, South Africa: Sept. 20
Durban, South Africa: Sept. 22 - Sept. 23
Manzini, Eswatini: Sept. 23 - Sept. 25
Swakopmund, Namibia: Sept. 26
Lusaka, Zambia: Sept. 29
Maun, Botswana: Oct. 1
Gaborone, Botswana: Oct. 8 - Oct. 9
Kampala, Uganda: Oct. 10 - Oct. 12
If you can commit to one hour of prayer for us, please scan the QR code above or visit
Revival.com/PrayerChain
.
Please pray: Psalm 91 and Psalm 23; Supernatural Wisdom, Protection, Provision and Direction; Book of Acts Outpouring; Many souls into the Kingdom; Nations to be shaken.
PRAYER FOR DRS. RODNEY & ADONICA HOWARD-BROWNE:
Thank You Lord for giving Your angels special charge over Drs. Rodney & Adonica and the ministry team, to accompany, defend, and preserve them in all their ways. We thank you that Your angels are encamped around about them. We thank You for giving them a spirit of wisdom, understanding, and knowledge. Grant them good success and prosper them in every realm. May their ministry be well received and may a mighty harvest of souls come in. May the churches be revived and mobilized to bring in the harvest of souls. Grant Drs. Rodney & Adonica utterance and boldness in the Holy Ghost. We thank you that favor is their portion and they are surrounded with favor as with a shield. We thank you that no weapon formed against them will prosper, safe travels, and that every part of their trip is blessed. We ask this in the mighty name of Jesus. Thank You Jesus, Amen!
Please, check out
revival.com
& my
Instagram @rodneyhowardbrowne
regularly for exciting trip updates!
We thank you for partnering together with us to see nations shaken.
For the harvest of souls,
Dr. Rodney Howard-Browne