ALAND ISLAND UPDATE
Journal
Publish date: 03/12/2006
Dear Friends & Partners,
Over the weekend we had three meetings in Mariehamn, Aland Island - on Saturday night and Sunday morning and night. Aland is a group of 6500 islands situated in the Baltic Sea between Finland and Sweden, governed by Finland, with a population of 27 000. Alanders speak Swedish and consider themselves neither Swedish or Finnish - just Alanders! Apparently, however, if an ice hockey game is being played between Sweden and Finland then 80% of the island will back Finland and 20% will back Sweden so that tells you a little about their allegiances! :)
One of the ways we advertised on Aland was by mailing every household on the island - 13063 homes - a post card with the soul-winning prayer on the back.
270 people showed up and we had 75 of them at the altar call on Saturday night.
Many people said that this was one of the biggest gatherings they have seen on the island for anything - even sporting events.
The fire of God fell in the meetings and the glory of the Lord touched many people. We were told that very few ministers ever come to Aland to minister.
One lady asked us, in front of everyone, including the local pastors, to pray for their islands as all the churches were very "quiet!" We do believe that the local pastors, who attended the meetings, were touched by the Holy Spirit and we pray that they will press in for more of God and not have "quiet" church services any more!
Some of the testimonies were:
- A man by the name of Olavi, a Latvian who lives in Finland, who had fallen and broken his hip in 3 places. After prayer he took off his back and hip brace.
- A young girl who came up in the altar to surrender her life to the Lord.
Suddenly she announced that she could now see clearly. Before she came, she had had totally blurred vision.
On Saturday night, people sat and looked. Some were touched. Sunday morning and night we had much of the same crowd, but they began to break through in the things of the Spirit. Sunday evening things looked a whole lot different as the joy of the Lord swept the place. The two main supporting church's pastors were powerfully touched by the fire of God. We were able to place two of our I-pods with pastors in Aland Island.
Many people were restored to the joy of their salvation. We believe that a fire has been lit in Aland Island and will not easily go out! The meetings were televised and recorded for future play across Scandinavia on Vision Norge and the God Channel.

By the way, we invite you to join our Stockholm, Sweden services live via www.revival.com Tuesday - Friday, March 14 - 17, at 3:30 A.M. and 1:00 P.M. Eastern Standard Time daily.
We love you.
Drs. Rodney & Adonica Howard-Browne and the RMI crusade team (Eric Gonyon, Jussi & Paula Korvajarvi)
P.S. If you are being blessed by these daily reports please keep e-mailing us - many of you have already - and we read every one. It is truly a great encouragement to us on the field to hear from you.
Click the link below to talk to us.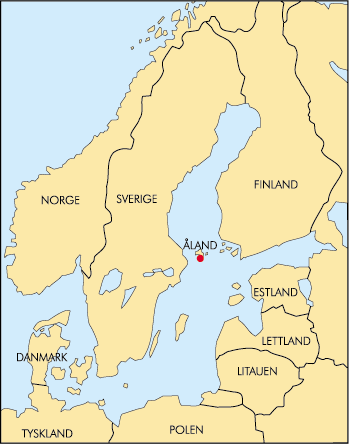 ALAND ISLAND IS LOCATED BETWEEN SWEDEN AND FINLAND IN THE BALTIC SEA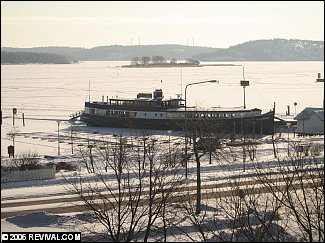 THE HARBOR IS FROZEN OVER AND THIS BOAT IS NOT GOING ANYWHERE.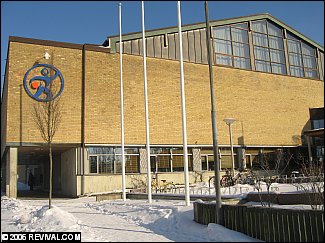 THIS IS THE VENUE FOR OUR MEETINGS.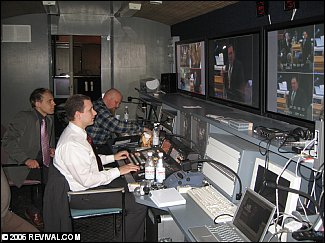 PHILIP BARRETT DIRECTS TV AND INTERNET BROADCAST.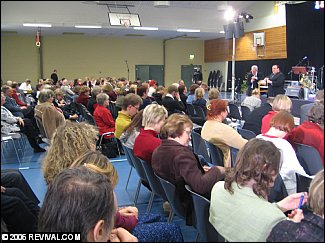 WE ARE IN A TOWN OF ONLY 27,000 PEOPLE; WE HAD A WONDERFUL TURN OUT.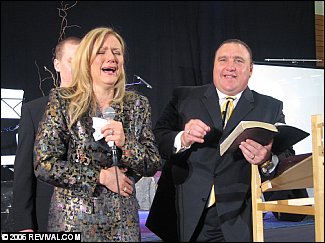 PASTOR ADONICA SHARES HER TESTIMONY IN THE ALAND ISLANDS.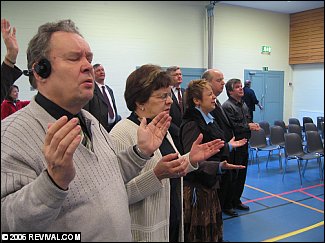 FINNISH PARTNERS ARE ABOUT TO GET PRAYED FOR.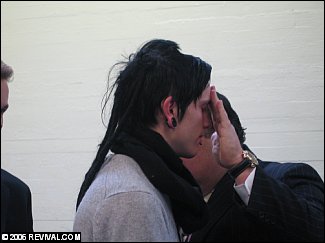 IT'S THE ANOINTING THAT MAKES THE DIFFERENCE.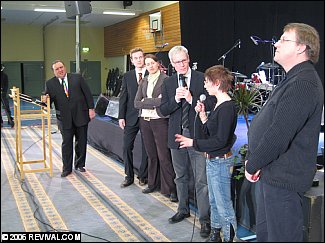 MANY TESTIFY OF HOW REVIVAL HAS CHANGED THEIR LIVES.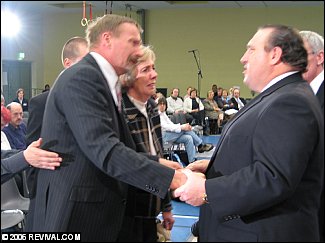 LOCAL ALAND ISLAND PASTORS ARE TOUCHED AND CHANGED FOREVER.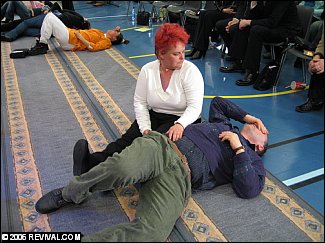 THIS COUPLE WILL NEVER BE THE SAME AGAIN.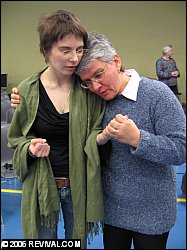 THE LORD IS GOOD!
A MIRACLE IS ABOUT TO TAKE PLACE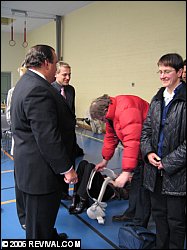 THIS MAN HAD FALLEN OFF A ROOF AND HAD A BODY BRACE ON. AFTER RECEIVING PRAYER, HE TOOK OFF THE BRACE AND TESTIFIED THAT THE LORD HAS HEALED HIM.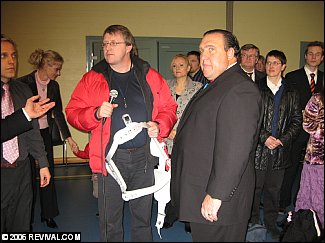 IT'S TIME TO TESTIFY!