FINAL DAY FAROE ISLANDS
Journal
Publish date: 03/10/2006
Dear Friends & Partners
Greetings from the Faroe Islands, as we wrap up this great week. 280 people responded to the altar call tonight. Every night, a large number of people are coming to the Lord for the very first time.
A dear Norwegian brother, Jan Hanvold, who is the head of Vision Norge, a television station based out of Norway, came here to beam us up live to 38 countries of Scandinavia and Europe this week. Because of the location of the satellite, he could not send up the live signal from the island and so we are doing a tape delay, showing the meetings the next day. Through these difficulties, this week, God gave him the idea, to build a TV station on the Faroe Islands and he told me about it tonight before the evening service. Over the years, God has used our ministry to touch Brother Jan and his wife and inspire them to believe God for great things. Many times they had sacrificially sown into RMI and God has supernaturally blessed and prospered them, giving them a radio and a television station with no money, among other things! He is a giver - he even came this week at his own expense to broadcast these meetings.
Tonight I had him testify about all the supernatural things that God has already done for him. While he was sharing, I felt led of the Lord to give him the whole offering for the TV station to be built in the Faroe Islands. The offering was $25,000.00 (in their currency, 155 000 kroner) and now we will see a Christian television station built in the Faroe Islands - the first one in the history of the nation!
God is so good! It's awesome to see what the Lord is doing in the islands of the sea - this week alone we had 665 decisions for Christ, in a nation of 48 000 people, with just 5 weeks of preparation. The devil was not ready for this one!
Many were mightily touched tonight by the power of the Holy Spirit. Thank you for your prayer and continued financial support.
To sow a seed into the nations - Please click below.
We love you.
Drs. Rodney & Adonica Howard-Browne and the RMI crusade team (Eric Gonyon, Jussi & Paula Korvajarvi)
P.S. If you are being blessed by these daily reports please keep e-mailing us - many of you have already - and we read every one. It is truly a great encouragement to us on the field to hear from you.
Click the link below to talk to us.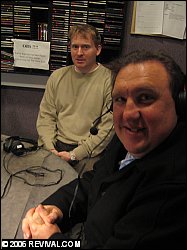 PASTOR RODNEY IS BEING INTERVIEWED ON THE NATION WIDE CHRISTIAN RADIO STATION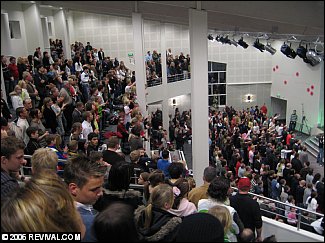 THE CHURCH WAS FILLED TO MAX CAPACITY WITH HUNGRY PEOPLE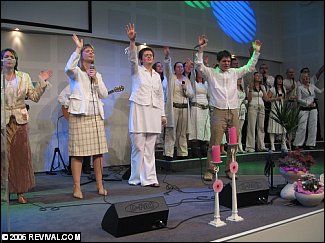 ANOINTED PRAISE AND WORSHIP FROM THE CHURCH BAND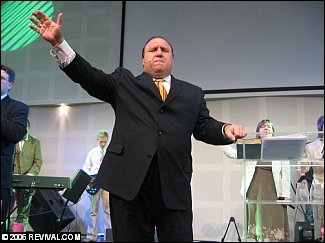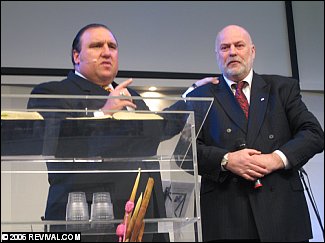 PASTOR RODNEY GIVES TONIGHTS ENTIRE OFFERING TO JAN HANVOLD TO START THE FIRST FAROE ISLANDS CHRISTIAN TV STATION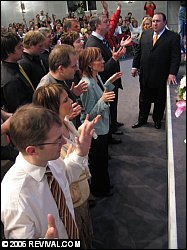 PASTORS RODNEY AND ADONICA PRAY FOR ALL
THE FAROE ISLAND PASTORS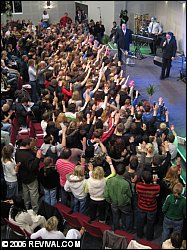 280 PEOPLE FLOODED THE ALTAR TO MAKE JESUS THE LORD OF THEIR LIVES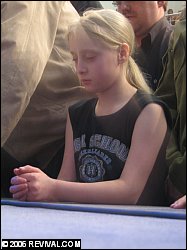 WHO KNOWS WHAT THE LORD WILL DO WITH THIS PRECIOUS YOUNG GIRL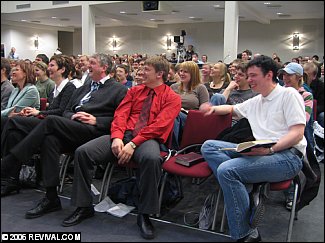 MANY SAID THEY HAVE NEVER SEEN SUCH A POWERFUL MOVE OF GOD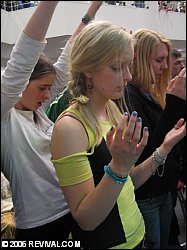 JESUS IS THE ONLY ANSWER FOR THIS GENERATION